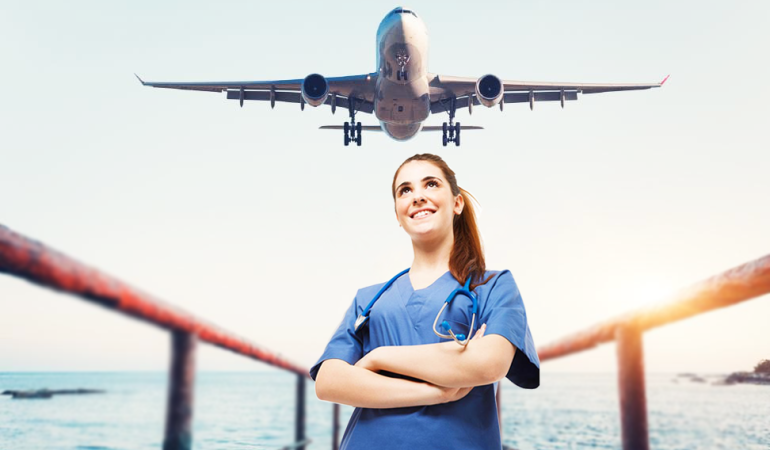 With the occurrence of numerous health challenges and the shortage of nurses in different communities, the healthcare industry since the 70s has embraced travel nursing.
Travel nurses are often in demand in war-torn regions, during an outbreak of an epidemic, and in communities where the number of trained and experienced medical personnel is limited.
What is Travel Nursing?
Just as the name indicates, travel nurses temporarily work on assignments in different locations to help solve nursing shortages. They do not work in permanent positions at hospitals but rather, search for employment at staffing agencies. Their assignments might last for weeks or months depending on the job.
Travel nurses perform the same responsibilities as nurses who work in permanent positions at particular hospitals or other healthcare facilities. However, being a travel nurse gives you the opportunity to build your career while having some fun. Plus travel nursing roles give you the opportunity to explore a city and advance your nursing career at leading healthcare facilities in a particular region and beyond.
As a travel nurse, some of the things you will benefit from will be meeting new people and experiencing life in different parts of the country or world while building a great resume that showcases your rich experience in the healthcare sector.
Since your day as a travel nurse in any facility is limited, you are often free from hospital politics. You have the ability to stay away from the internal cliques of a hospital.
Before you decide to choose travel nursing as the way to go, you need to know what it entails to become a travel nurse.
How to Become a Travel Nurse
Travel nursing requires you to be flexible. This concept was developed in the 1970s due to nursing shortages in that era. Travel nurses have the same responsibilities as permanent nurses but with more adventure and better pay.
Healthcare facilities go for travel nurses who are flexible and open to new methods and procedures as no two facilities are the same. Below are some steps to follow to become a travel nurse.
1. Understand the Role of a Travel Nurse
To embrace the career path of a travel nurse, knowing the requirements is a prerequisite. Travel nurses are nurses who work for independent staffing agencies that recruit registered nurses to fill positions across the country and other parts of the world. In a bid to maintain their staffing needs, hospitals request the services of a travel nurse. Even though travel nurses help with staffing issues, they also come in to fill a temporary gap when nurses go on vacation or are hired by other nurses.
They sign a contract to manage a temporary position for a few days, months, and even longer including opportunities to work internationally. You can as well turn your temporary assignment into something permanent if you wish to.
If you are adventurous, like to meet new people, gain new experiences, and understand the situation of the healthcare industry in other regions, then it's time to consider becoming a travel nurse.
2. Earn Your ASN or BSN
Now that you understand what travel nursing entails, it's time for you to bag those certificates that will help you to become a travel nurse. If you have decided to become a travel nurse, it is important to have the necessary documents to do so.
Degrees like an Associate of Science in Nursing and a Bachelor of Science in Nursing make you a good candidate for travel nursing. It is important that you obtain your degrees from universities or institutions that are recognized by the state.
3. Gain Experience
After obtaining your degrees, you need to gain experience in whatever field you decide to specialize in. It is recommended that you have at least two years of experience in your nursing specialty.
Your clinical background paves the way for specific openings for you to qualify as a travel nurse. Your chances increase if you have a good number of years of experience in a specialized field and have gone through advanced training.
4. Get Licensed
The licensing requirements for every country might not be the same. So, as a travel nurse aspirant, it is important that you meet the requirements of licensure in the new country based on established regulations. These regulations are according to the said country's regulatory nursing board.
Also, if you obtained your nursing degrees and experience in one country, you might be required to take an evaluation on your qualifications and eligibility for licensure in the country you will be working.
5. Find a Travel Nurse Staffing Agency and Apply
A travel nurse staffing agency is more reliable to find openings for a travel nurse. After making sure that your education qualifications, nursing experience, and other credentials are unquestionable, the next thing to do is to work with a reliable nurse staffing agency.
To do this, you need to consider rating services to know what former travel nurses are saying about a particular agency, lead generation websites give travel nursing agencies access to your information which they use to contact you, you can also make use of colleagues' referrals by requesting those who have worked with travel agencies to recommend you, and also join a professional networking site to have access to others in the field.
Bottomline
Now, you know what travel nursing is all about and how to become one. It's time to start that dream career while having fun along the way.
If you're ready to begin an exciting career as a travel nurse, there are thousands of open positions here you can start applying to.
What are you still waiting for? Start the process and enjoy the experience.
Featured Image Credits: Wanderly