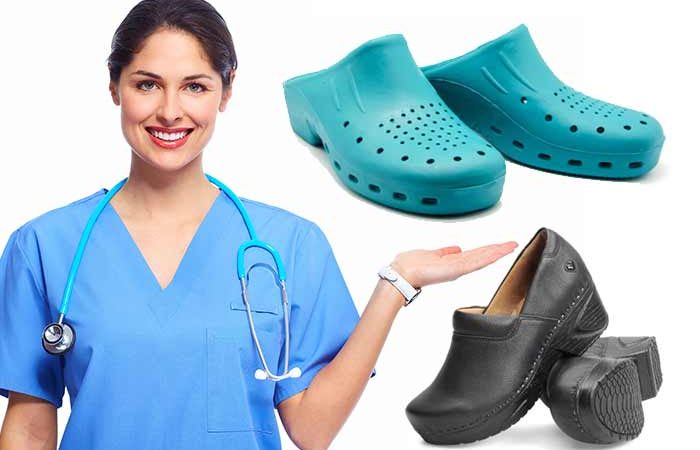 As a nurse, you do so much standing and movements and you deserve a pair of shoes that can do too. You walk long distances during the day which helps you stay fit. However, that also has an adverse effect on your legs as you end up having sore ankles and heels.
To have a balance, it's important to have the right footwear that can take you throughout the day. Not wearing quality footwear can lead to problems such as plantar fasciitis, peripheral neuropathy, hammer toe, corns, calluses, ingrown toenails, sore, swollen feet, and other foot and ankle conditions.
How to pick the right nursing shoe
When choosing work footwear for yourself, everything matters. Below are some things to consider when doing shoe shopping as a nurse.
The design you want
Just because you're a nurse doesn't mean you shouldn't look fab in your outfit. While picking a shoe for yourself, feel free to pick a design that you love. True, you're looking for something that will keep your legs in a good shape but it wouldn't hurt if you're comfortable with your overall look.
Consider support and stability
Getting a shoe that gives you support and stability is a necessity. It's important that you get shoes that provide support and comfort when you're standing, walking, running, and sprinting for those number of hours. You also want to make sure the shoes you pick are shock absorbers.
Don't wait until you start dealing with throbbing feet and swollen ankles before thinking of your comfort and health.
Is the weight okay?
Different shoe types have different weights and one key aspect you should consider when choosing a shoe for yourself is the weight. There are shoes that are heavier than others. Thus, when making a choice, think of the effect it will have on your feet. However, you should know that if you're looking for shoes that will give you support and stability, your best bet is to go in for heavier shoes.
Check the grip on the bottom
Have you ever worn a shoe and the moment you step on a liquid, you find yourself on the ground? As nurses, you're going to step on liquids as many times as possible, meaning you will need a slip-resistant shoe to avoid several falls.
Can you afford it?
Getting a comfortable shoe shouldn't strain you financially. True, shoes that are comfy are usually more expensive than those with zero comfort. Nonetheless, you do not have to use your entire earnings to get one for yourself. Make sure you get something that can save your feet and you can afford it at the same time.
Now, to successfully choose a shoe after considering the above steps, there are other factors to consider to make your purchase worth it.
Foot type: If your foot type is supinated, that is with a high arch and ankles that tend to roll out during balance or dynamic activities, get a cushioned shoe. But if your foot type is neutral, the best footwear to get is a neutral one that has no exaggeration in footprint and the heel can maintain vertical position dynamically. With a pronated foot type on the other hand that has a flat arch and the ankle has the tendency to roll in during balance or dynamic activities, get the support/control footwear.
Toe type: It's always advisable to get shoes that let your toes feel free during movements. Individuals have different toe shapes and sizes. There are people with toes that have the same shapes while others have feet where some toes extend more than others. With the big toe being the largest, there are people whose second protrudes past the big toe. Hence, when choosing your shoe, make sure you can wiggle your toes.
Wrapping Up on Shoe Shopping for Nurses
Nurses are on their feet for at least 8 to 12 hours a day, sometimes longer. That means having the right work shoes on can make your job a bit easier.
It's true every nurse has their own unique needs when it comes to their feet. However, following these tips will help you make the right choice of footwear every time. Are the shoes comfortable? Are they too expensive? Are they slip and water-resistant? Are they sharp-resistant to protect your feet from sharp objects? Answering these questions will help you get the comfort you need as well as leave your feet in a good shape.
For one thing, wearing the right footwear allows you to focus more on your patients and less on your feet, making you a better and more productive nurse.
Need more tips on staying healthy as a nurse? Explore our blog for more insightful tips.
Featured Image Credits: American Traveler