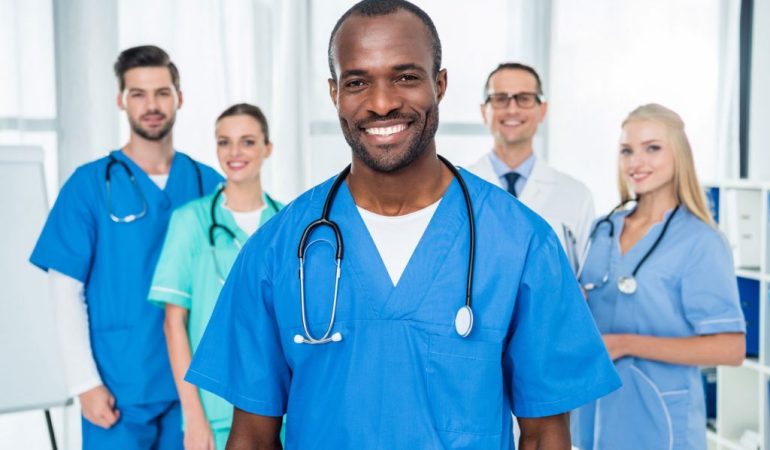 As retirements, burnout, and seasonal fluctuations remain at an all-time high, healthcare facilities are always looking for qualified nurses to fill various vacancies. Yet, finding the right candidate at the right time is no small task.
So, what do they do?
They turn to nurse staffing agencies to help them with their staffing needs. But then, finding the right nurse staffing agency to work with can also be a challenging and time-consuming task. For one thing, working with these agencies is essential for ensuring quality patient care and a smooth-running operation.
With so many options available, it can be difficult to know where to start or what to look for in a staffing agency.
In this article, we'll explore the important factors to consider when selecting a nurse staffing agency for your healthcare facility, including experience, credential verification, pricing, and customer service.
By taking the time to research and evaluate your options, you can feel confident that you're making the best choice for your healthcare facility and your patients.
What is a Nurse Staffing Agency?
A nurse staffing agency, also known as a nurse placement agency or healthcare staffing agency, is a company that provides temporary or permanent nursing staff to healthcare facilities, such as hospitals, nursing homes, and clinics. These agencies offer a solution for healthcare facilities that need to fill short- or long-term staffing gaps, or address fluctuating patient needs. 
They provide healthcare facilities with access to a pool of qualified and experienced nurses and can help to streamline the hiring process and reduce the burden on HR departments.
The main role of nurse staffing agencies is to match qualified and experienced nurses with healthcare facilities that need their services. This can include everything from filling short-term shifts to long-term assignments and even permanent placement. The agencies are responsible for the recruitment, screening, and training of the nurses they provide, ensuring that they meet the standards and requirements of the healthcare facilities they serve.
Factors to Consider When Choosing a Nurse Staffing Agency
When looking to partner with a nurse staffing agency, there are several factors that you should consider to ensure that you're making the best choice for your healthcare facility.
1. Size and Scope of the Agency
The size and scope of a nurse staffing agency can greatly impact the quality of service you receive. Consider whether the agency is small, medium, or large and what its areas of specialization are. 
You want to work with an agency that has the capacity to provide a sufficient number of qualified nurses for your needs.
2. Availability of Nurses
The availability of nurses is a critical factor when choosing a nurse staffing agency. Nurse staffing agencies often have a network of experienced and skilled nurses who are available to work on short notice.
Make sure the agency has a pool of qualified and experienced nurses that they can quickly draw from to meet your needs.
3. Cost of Services
Cost is always a factor to consider when choosing any service provider. Make sure you're aware of the cost of services provided by the nurse staffing agency, and that their prices are competitive and within your budget.
The best agencies often have competitive pricing structures that allow healthcare facilities to keep staffing costs under control.
4. Reputation and Experience of the Agency
The reputation and experience of the nurse staffing agency you choose can have a significant impact on the quality of services you receive. Look for an agency with a proven track record of providing quality services and has received positive reviews from previous clients.
5. Quality of the Nurses Provided
The quality of the nurses provided by the agency is critical to the success of your healthcare facility. Make sure you're aware of the qualifications, certifications, and experience of the nurses provided by the agency, and that they meet your standards.
Most nurse staffing agencies will conduct background checks on all of their nurses, ensuring that they're properly trained. This helps to reduce the risk of hiring someone who is not qualified or who is not a good fit for your healthcare facility.
6. Flexibility of Services
The flexibility of the nurse staffing agency you choose is an important factor to consider. Healthcare facilities often use nurse staffing agencies to fill in for absent staff, cover for increased patient demand, and manage staff shortages.
Make sure the agency is able to quickly respond to your needs and provide services that meet the unique requirements of your healthcare facility. A flexible agency will be better equipped to handle changes in your staffing needs, and ensure that you receive the best possible service.
Questions to Ask When Evaluating a Nurse Staffing Agency
Just as asking the right questions is important for nursing candidates, it's equally essential for healthcare facilities to ask the right questions to ensure they're making the best decision for their healthcare facilities. Here are some critical questions you should ask:
What types of nursing services does the agency provide? This will help you determine if the agency offers the specific services your facility needs.
How long has the agency been in business? Experience is important when it comes to staffing agencies, and a longer track record can indicate stability and reliability.
Does the agency have any certifications or accreditations? This can provide reassurance that the agency operates according to industry standards and regulations.
What is the process for selecting and placing nurses at healthcare facilities? You want to ensure that the agency has a thorough process in place for selecting and placing the best nurses for your facility.
How does the agency handle nurse training and continuing education? This will give you an idea of the agency's commitment to ensuring its nurses are up-to-date on the latest practices and techniques.
Does the agency have any liability insurance for its nurses? This is important in case of any accidents or incidents while a nurse is working in your facility.
By considering these questions when evaluating a nurse staffing agency, you can be confident that you're making an informed decision that will benefit your healthcare facility and its patients.
Ready to Find the Right Nurse Staffing Agency?
Finding the right nurse staffing agency can be a daunting task, but it's crucial to ensure the health and safety of patients in your healthcare facility.
By taking these factors into account and asking the right questions, you can find a nurse staffing agency that meets the needs of your healthcare facility and provides quality care for your patients.
So, if you're looking for a nurse staffing agency in Atlanta GA, you can connect with us for recruitment and vetting on your behalf. PNG Solutions is a recognized name in the industry and offers a full range of managed services for all kinds of staffing needs.

Featured Image Credits: Proactive Healthcare Recruiters